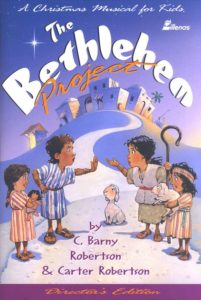 by Toby Hapuset & Andrew Long
Recently, Kerman Christian School had their kindergarten through sixth grade Christmas program. The program was a success. All the cast remembered their lines, and the choir were great singers. The PAC team and parents where gracious enough to supply cookies for everybody after the play. Kerman Christian is so thankful for Matt Shattuck. Mr. Shattuck did sound for the program. Also, he recorded the entire program. 
At the end of the program Petropulos said, "That was amazing, the choir where great singers, and the cast where amazing actors." Klay got a shout out from Petropulos. Klay sat down as fast as possible the second the song ended. The church was packed with people. Everyone is thankful for the teachers. They helped coordinate the entire thing. The whole program ran very smoothly. 
This year, KCS used the program "The Bethlehem Project," which adds a funny storyline with the story of Jesus' birth. For example, Sol (Owen Gailey) was unable to hear well and said funny things to Joseph (Kody Degroot) and Mary (Layna Gailey). Sol also couldn't understand Yetta (Ellie Morse), his wife. Fighting broke out between Shepherd Kids (Victoria Marrero, Kaitlyn Rhoades, Alajandro Macias, Nimrita Joel, and Sean Arvance) and Bethlehem Kids (Micah Arvance, Emma Arvance, TJ Grouleff, and Emily).The angels (Tobin Goosev, Nevaeh Nord, Faith Hernadez, and Samantha Goosev) prophesized about Jesus birth and shared good news about Jesus.